In The News . . .
RMRH Adopts Two Park County Families During Holiday Season
Rocky Mountain Rural Health would like to send a HUGE Thank You to Jean Ashby and volunteers for the 18th annual Community Christmas dinner held in Fairplay. Considering the bad weather, it was still a success. A special thank you to Northwest Fire Department, South Park Ambulance, and all attendees that brought a dish to share. THANK YOU!
---
$650 Raised for Park County RE-2 Athletic Programs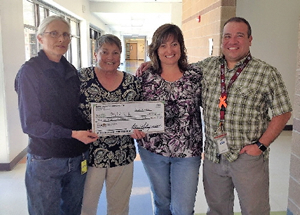 Rocky Mountain Rural Health (RMRH) Board of Directors presents South Park High School (SPHS) and the South Park Athletic Association (SPAA) with a check for the proceeds from the annual sports physical event. For the past three years RMRH has worked with both medical and non-medical community volunteers to hold a sports physical day in order to give all South Park athletes the opportunity to play organized team sports. This year's event raised $650 for SPAA.



Pictured (left right)...

Kathy Fitting, MD, FACP, RMRH Board Treasurer
Jane Newman, South Park Middle / High School Principal
Becky DeBonis, President, SPAA
Ron Reyes, Co-Athletic Director, South Park High School
---
RMRH Drug Take Back Event Hosted by Boys & Girls Clubs of the High Rockies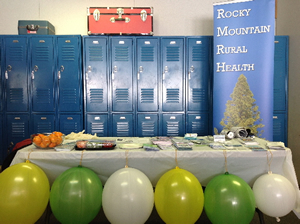 On April 30, RMRH had the privilege of participating in the Drug Take Back Day sponsored by the Boys & Girls Clubs of the High Rockies (BGCHR) and the Fairplay Police Department. It was fun and games for all. RMRH got to share important age appropriate information regarding prescription drug safety and play games with a total of 20 individuals (11 adults and 9 children). RMRH also provided free blood pressure and oxygen level screenings to those that requested it, and provided healthy snacks for all in attendance.



THANK YOU Boys & Girls Clubs of the High Rockies for hosting such a fun event!!
---
RMRH Staff Complete Community Health Worker Certification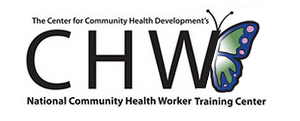 Rocky Mountain Rural Health congratulates two of its own for successfully completing the Community Health Worker certification course through Texas A&M Health Science Center. Barbie McBee and Julie Johnson worked diligently throughout the intensive 24 week course and both graduated at the top of their class. They always kept the goal of better serving the residents of Park County in view and Rocky Mountain Rural Health is pleased to be able to use their expertise to benefit our medically underserved community.

So what exactly does a Community Health Worker do?

They fulfill a wide range of services based on assisting individuals and communities toward better health. This may include conducting outreach events, providing information on available resources, performing blood pressure screenings and navigating individuals through the healthcare system.

McBee and Johnson conduct weekly outreach events at various venues throughout the County. They bring a wealth of information on healthcare and related topics and specialize in helping people connect with the services they need. Please check our website for their itinerary. They will be coming to a location near you! All events are weather and road conditions permitting.