Donate Now and Support RMRH Programs

We Serve Insured and Uninsured Alike
Rocky Mountain Rural Health is a 501(c)3 Not-for-Profit organization dedicated to health care in the Park County region.
"The mission of Rocky Mountain Rural Health is to improve the physical and mental health of Park County residents."
There is much work to be done to improve access to care and community health education. Please consider a tax deductible donation to help more Park County residents receive teh health care they deserve. Your donation is greatly appreciated and will go to support RMRH programs such as:
Families in Crisis Fund
Medication Assistance Program
Mobile Mammography Van
Navigation Services
Non-Emergency Medical Transport
Sports Physicals
---
Families in Crisis Fund
These funds are used to provide direct support to families that find themselves in a medical crisis and are financially unable to meet their obligations. Assistance may cover medical co-pays, drug assistance, transportation, and other expenses related to physical and mental health issues.
Medication Assistance Program
RMRH staff helps patients who cannot afford their medications, find and register for assistance Programs, sponsored by the various pharmaceutical companies which provide free or reduced cost medications.
Mobile Mammography Van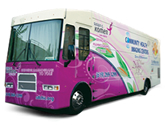 Once yearly, RMRH works with the Susan G. Komen Colorado to bring the Mobile Mammogram Van to Fairplay and Guffey. All women are welcome. Mammograms are free for uninsured and underinsured. They will also take commercial insurances (those with high deductible plans). Medicare and Medicaid patients need to be at least one year since their previous Mammogram. Call the RMRH office (719-836-2169) for the next date the van will be at each location.
Navigation Services
RMRH guides (navigates) clients through and around barriers in the health care system to ensure quality care, diagnosis, and treatment. This can take the form of helping someone find a primary care physician or providing gas money so someone can continue their treatments. It could mean helping someone get hearing aids or other durable medical goods. Sometimes it means assisting people through the insurance application process.
Non-Emergency Medical Transport
Non-emergency Medical Transportation addresses the need for a person to travel to a medical appointment. These types of appointments include doctors visits, dental visits and medical procedures. It can also include appointments for testing such as x-rays, scans, or lab work. Here in Park County geography and climate coupled with no public transportation make this an even more pressing issue.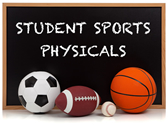 Sports Physicals
RMRH believes that every child deserves the opportunity to participate in school athletic activities. All children and teens must have a Sports Physical each year in order to participate. In partnership with Local Providers, RMRH provides low cost Sports Physicals before the start of each school year to all who wish to be in school sports. A certain number of free Sports Physicals are provided so no child is left out because of limited financial resources.